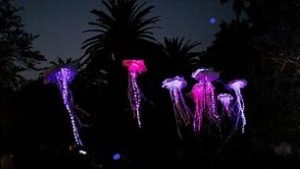 —Beyond Van Gogh – The Immersive Experience:

Tallahassee TBA!!
—

Dance Theatre of Harlem

, presented by FSU Opening Nights: Ruby Diamond Concert Hall, FSU; Wednesday, June 1, 2022 at 7:30 PM
—Florida Animation Festival

:

June 9-26, 2022; All Saints Cinema, 918 Railroad Avenue, Tallahassee
The Florida Animation Festival is a multi-day film festival launched in 2016 by The Tallahassee Film Society in partnership with The Pod Advertising to showcase amazing, animated films and spotlight both regional and global animation talent. The festival includes dozens of animated shorts submitted from around the world, a kick-off party, a free feature film for families, filmmaking workshops, swag, and more!
—Backstreet Boys

:

Monday, June 20, 2022; Vystar Veterans Memorial Arena, 7:30 PM, Jacksonville

Downtown – Interesting establishments
CHUCK'S FISH: 224 E. College Street, Tallahassee. All of the featured fish at Chuck's Fish comes from its own wholesale market at Harbor Docks in Destin. In addition to Gulf seafood, it offers aged, naturally-raised beef – cut in-house, and an award-winning sushi bar, created and managed by renowned chef Yoshie Eddings, who has been the sushi chef at Harbor Docks restaurant for 30 years. When you're looking for a top-notch dining experience with wonderful food, stellar service, and a great atmosphere, try

Chuck's Fish!!
Please check back periodically as more events are added.